DICKIES IS PROUD TO PRESENT THE 2007 DICKIES 500 NEXTEL CUP RACE
November 4, 2007

TEXAS MOTOR SPEEDWAY

Texas Motor Speedway is a motor sports haven along the historic Chisholm Trail in Fort Worth with seating for 150,061 fans. It represents the pinnacle in luxury for fans of auto racing, featuring 194 skybox VIP suites.
Contact Information
P.O. Box 500
Fort Worth, TX 76101
(817) 215-8500
TICKETS

Don't miss your chance to catch an action-packed weekend November 1 - 4 at Texas Motor Speedway! Prices range from $142 - $276 for all 4 days of racing events. A 4-Pack purchase guarantees the best seats available, PLUS access to buy Dickies 500 weekend pit passes.
TRACK MAPS
Click anywhere on the maps below for a larger view.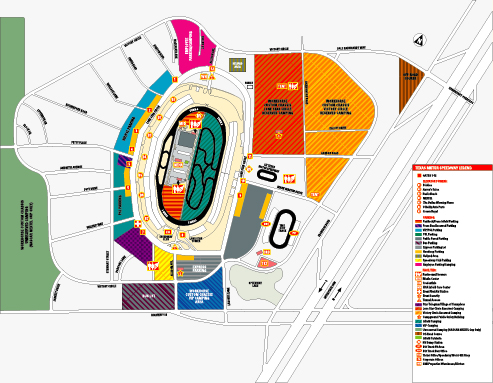 DRIVING DIRECTIONS

IF YOU TRAVEL HIGHWAY 114 WEST FROM DALLAS,
YOU MAY MISS THE START OF THE RACE!
Texas Motor Speedway advises race fans to AVOID State Highway 114 West from Dallas when traveling to the speedway for major racing events. The maps below offer alternative routes to make your trip to Texas Motor Speedway as quick as possible.
Remember to give yourself enough time to travel so that you don't miss any of the great midway displays and pre-race entertainment prior to the race. Tune in to Live 105.3 for race weekend traffic information.
Texas Motor Speedway's physical address is:

3545 Lone Star Circle
Ft. Worth, Texas 76177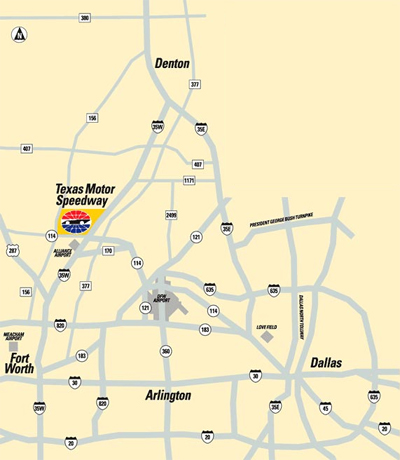 Directions from Ft. Worth
Take Interstate 35W north from Fort Worth. Exit on SH 114 and turn under the overpass to the speedway.

Alternate: Take Interstate 35W to U.S. 287 North. Left on U.S. 287 to FM 156. Right on FM 156 to SH 114. Right on SH 114 to the speedway.
Directions from Dallas
There are a variety of routes from Dallas to Texas Motor Speedway. However, because of the volume of traffic associated with most major races at the facility, the following route is recommended:

North from Dallas on Interstate 35E to Denton, TX. At the junction of I35E and I35W, head back south on Interstate 35W. Exit right on SH 114 to the speedway.
Directions from Denton
| | |
| --- | --- |
| | Take Interstate 35W south from Denton, exit right on SH 114. Alt.- Take U.S. 380 west from Denton, turn left on FM 156 south to SH 114. Left on SH 114 to the speedway. |
PARKING INFORMATION
Put 250,000 people and 100,000 vehicles together at any Speedway on a Sunday afternoon, and you can count on facing some challenges. But there are a few tips TMS officials and seasoned race-goers have passed along to make your journey to and from the races safe and as convenient as possible.
Start Smart! - Plan on getting to the track early on race day. This will avoid a good bit of the pre-race traffic and gives you plenty of time to enjoy the many attractions around the Speedway.
Follow Directions! - The event parking plan depends on your cooperation. Please follow the directions of all uniformed officers and parking attendants.
Be Patient, Be Courteous and Stay Cool - Anger, aggravation and accidents slow the traffic flow down more than anything. Stay in control, drive friendly, remember pedestrians have the right-of-way, and enjoy the day.
Got Gas? - There will be traffic delays at major events. Be sure you have plenty of gas in the tank when you leave home.
Take a Break After the Race - The longest traffic delays are usually after the race. Anticipate the call of nature before you head for the car, and you'll have a more comfortable trip home!
Watch This Space - When available for selected events, we will post the parking maps and traffic flow plans on the Web site. Plan ahead, and you will save time.
CLICK HERE TO PURCHASE RESERVED PARKING
INBOUND/OUTBOUND TRAFFIC MAP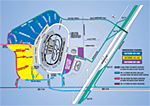 RULES
Texas Motor Speedway continues to provide a secure and exciting environment for the world's greatest racing entertainment. The following regulations are provided and enforced to make your visit a stress-free one.
All security measures are subject to change without notice.
Coolers are allowed inside the Speedway, but are subject to inspection by security officials and can be no larger than 14" X 14" X 14".
Only one cooler per ticket holder in the grandstands.
Glass is not allowed inside the Speedway.
Bags such as backpacks, fanny packs etc. are allowed, but are subject to inspection by security officials and can be no larger than 14" X 14" X 14".
Binoculars, scanners and cameras are allowed inside the Speedway.
Strollers, umbrellas, skate boards, scooters or roller blades are not allowed in the grandstands.
Items may not be left in or around the gate areas if they are not allowed inside.
All items brought through the gate areas are subject to inspection by security officials.
Guests are encouraged to arrive at the gates early to avoid traffic and to expedite entrance into the Speedway.
Guests are not allowed to bring these items into Texas Motor Speedway - weapons or firearms, fireworks, illegal substances and items restricted by local, state and federal laws.
The resale of Texas Motor Speedway admission tickets is strictly prohibited on the premises, which includes grounds and surrounding parking areas.
GOLF CART POLICY
Golf cart usage while on property at Texas Motor Speedway will be limited to only those vehicles being operated by authorized credentialed users. Authorized users shall include Race Team participants, Official and Event Sponsors, and Texas Motor Speedway Staff. ALL authorized users will be required to fulfill liability insurance requirements, associated with operating such vehicles while on Texas Motor Speedway property, prior to being issued a golf cart credential.
^
TOP